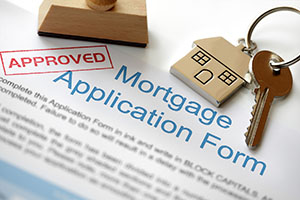 Photo: © Flynt - Dreamstime.com
In early March, the 30-year rate plunged to its lowest level in 50 years, at 3.29%, when the Fed dropped the federal funds rate to zero. Market fears stoked by concern over the global outbreak of COVID-19 helped drive down bond yields, which are tied to mortgage interest rates.

More Homeowners Are Refinancing
Homeowners scrambled to refinance and lock in the low rate. Surging mortgage applications overwhelmed lenders. The wave of mortgage applications caused an imbalance in the secondary mortgage market—there were more mortgage-backed securities to be sold than there were investors ready to buy them. Mortgage rates quickly rose to nearly 4 percent.

The Federal Reserve Is Acting to Stabilize the Market
The Federal Reserve began buying mortgage-backed securities in an effort to settle the lending market. Rising mortgage rates quickly dropped 15 points. According to Freddie Mac, the average rate on a 30-year, fixed-rate mortgage fell to 3.5% for the week ending March 26.

The dramatic swings back and forth are a result of the volatility in financial markets caused by the global coronavirus pandemic. The Fed's quantitative easing policy, which includes unlimited bond-buying, appears to have calmed the secondary market somewhat.

"The Federal Reserve's swift and significant efforts to stabilize the market were much needed and helped mortgage rates drop for the first time in three weeks," said Sam Khater, Freddie Mac's Chief Economist, in a news release. "Similar to other segments of the economy, real estate demand is softening. However, the combination of the Fed's actions and pending economic stimulus will provide substantial support to the mortgage markets."

Mortgage rates are pegged to the yield on 10-year Treasury notes, which had climbed for three weeks after the Fed first announced the federal funds cut. After the bond-buying announcement, the benchmark 10-year yield fell below 1%, to .800%, down 1.8 points from the week before.

Lenders Have to Work Through a Backlog of Applications
Another deluge of mortgage applications could again push mortgage rates upward as lenders try to keep up with demand. As lenders' ability to keep up with volume ebbs and flows, mortgage rates could continue to rise and fall. Keep in mind, too, that any backlog of applications could be affected by lenders' staffing as employees get sick or stay at home because of COVID-19 concerns.