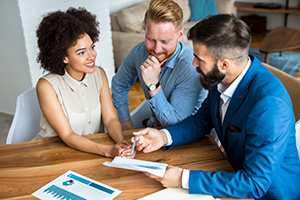 Millennials get a lot of flak, and though they may be the "Instagram selfie" and "avocado toast" generation, they are more like calculating investors than self-absorbed spenders when it comes to putting money into their homes. The home improvement website HomeAdvisors revealed in its annual "State of Home Spending" report that millennial homeowners—more than any other generation—tend to look for a return on investment when it comes to home improvement projects. The report showed that millennials are twice as likely than Gen Xers to list "adding value" to their home as a reason for a home project. And they were almost four times as likely to be concerned about ROI than baby boomers and their predecessors, the silent generation.
What Does This Mean for Home Sellers?
Millennials are the largest generation of people in the United States, and they have the most buying power of any generation. So if they are looking for home improvements that add value, anyone thinking of selling a home might want to keep that in mind.
Consider These Home Improvement Projects
Home projects that add to a home's value tend to be ones that create more living space, such as finished basements or outdoor areas like decks and patios. But the report found that millennial homeowners also consider the value in improvements, such as new windows, roofs, and HVAC systems. So there is, apparently, some practicality to millennials' outlook on the value of a home. And if millennial homeowners are making those improvements, it's likely that millennial homebuyers looking for turnkey homes will have an eye for those things too.
Bathroom Makeover
For years, the annual home improvement report showed that kitchens were the rooms that were remodeled the most by homeowners, but not anymore. According to the 2019 report, bathrooms got more makeovers than any other space in the house.
Kitchen Updates
While bathroom remodels were popular across all generations, the report showed that millennials were more likely than any other generation to redo a kitchen. While bathroom renovations are cheaper, which adds to their popularity among homeowners of all ages, kitchen projects usually return more value. That, plus the emphasis put on entertaining and eating healthy by younger homeowners, is likely why, the report theorized, millennials are renovating more kitchens than older generations.
Photo: © GutesaMilos - AdobeStock